Role: UX Research Consultant - Copy Editor 
Process: Market Research - User Interviews - Contextual Inquiry
Goal: Map the Print-on-Demand production process in order to identify areas where efficiency could be improved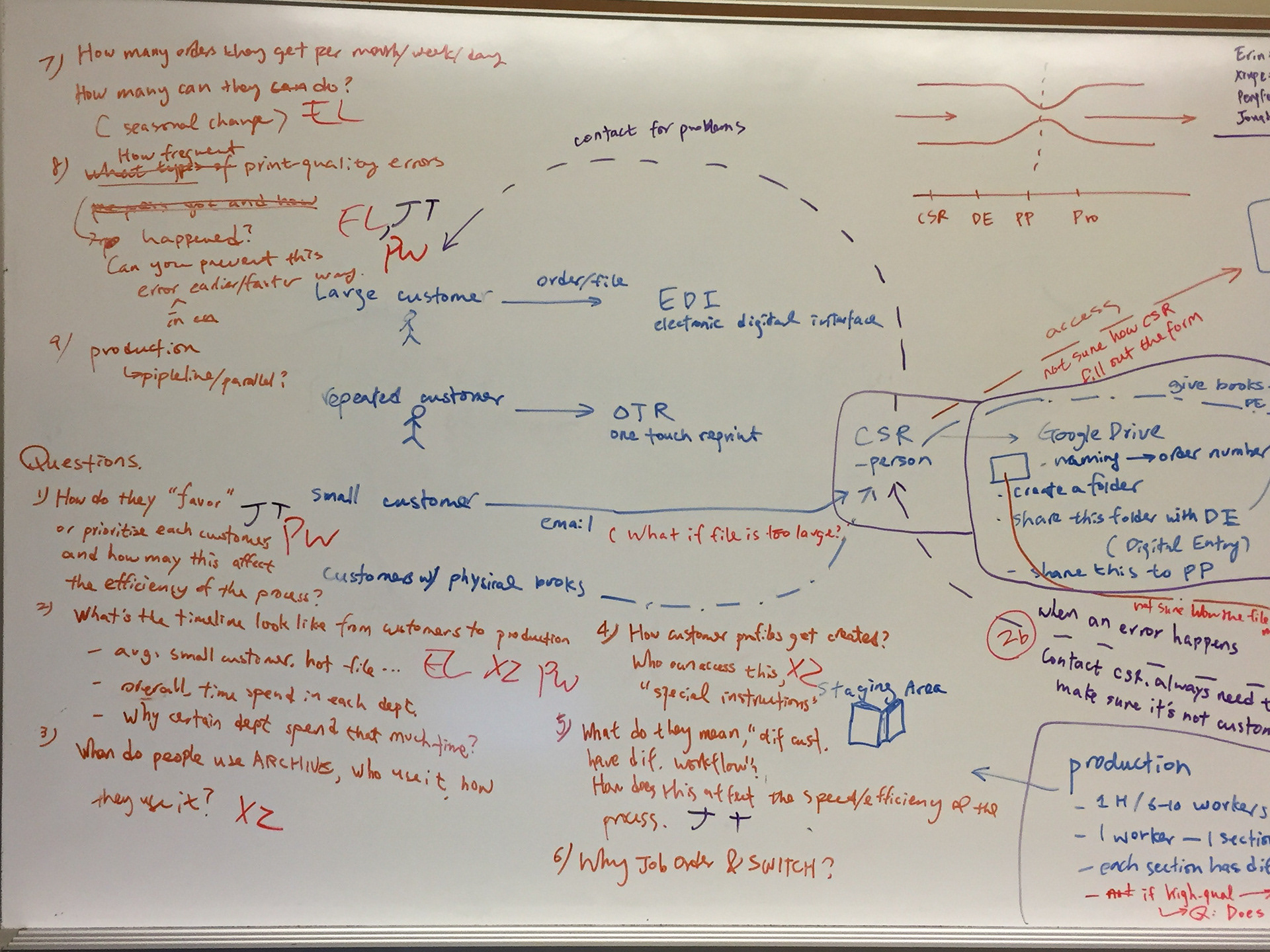 Even though Edwards Brothers Malloy invested in digital printing from its creation, the publishing company made a concentrated effort to increase their position in the digital sector in the 2010s. This increased focus was part of their major goal to become a full print management system for all of their clients, completely meeting their customers needs at every step of the printing process.

For this project, our team was asked to investigate the company's Print-on-Demand process and the various queues customer orders travel through. Due to time spent on potentially redundant tasks, orders placed with this service were experiencing significant delays. 
After an initial meeting with our client representative to get a clear picture of their current workflow and primary goals, our team conducted several rounds of interviews with multiple individuals throughout the company. For the best view of the Print-on-Demand process our interviewees included an employee from IT, two employees from Prepress, one employee from Digital Entry, and one employee from Production. 

Through various interviews, our team learned about the files that clients can submit, the ways in which EBM accepts these files and the process that turns client submissions into printed books. Specifically, we learned about the Electronic Data Interface used to manage files, the One Touch Reprint process, how the files moved in through manual entry and the data storage systems used by various departments. 

After these interviews, we held multiple interpretation sessions to go over the data collected to find patterns that could lead to potential bottlenecks in the process. 
The notes and observations highlighted three major areas of concern:
- The company's current technology made several important tasks more difficult.
- There was no standard in place for processing customer information.
- There were communication issues as files moved through the workflow.
The most glaring observation was that there was no template or standard in place for client files submissions. Marking size was a common issue, with an IT employee explaining that files could bring down the entire system if they were too large. On the prepress side, different file layouts forced the team to adjust page positions or cut off whitespace to make raw client files "print ready." We were told that these examples were weekly occurrences. 

These adjustments are already time consuming, but clients would often submit incomplete files that added to the frustration. According to our customer service participants, regular customers often omit special instructions for specifications like font or ink color, assuming that EBM keeps that all important information on file. While customer service representatives did keep detailed records of past orders, the overly complex systems added several extra steps for employees that had to search for that information.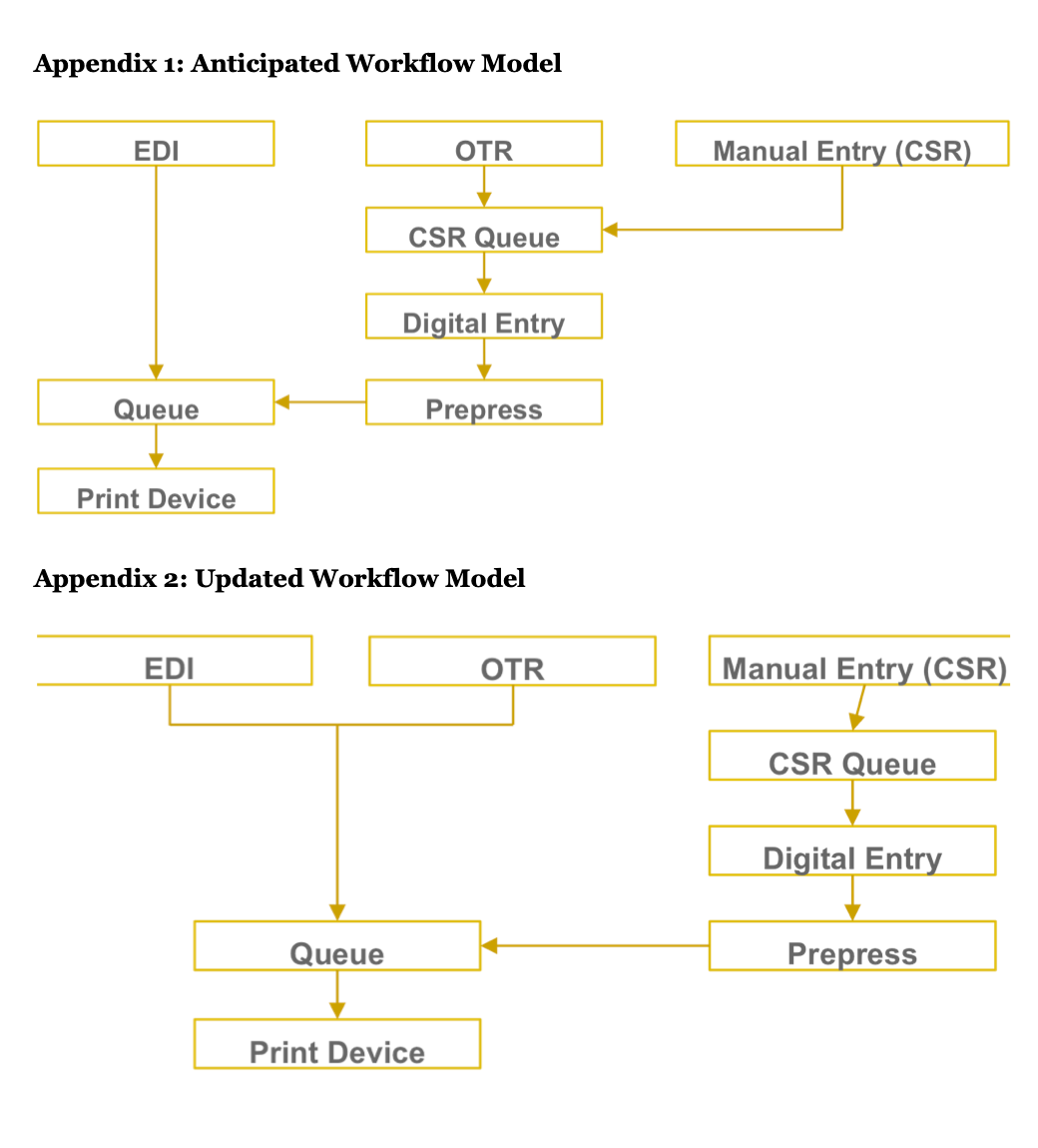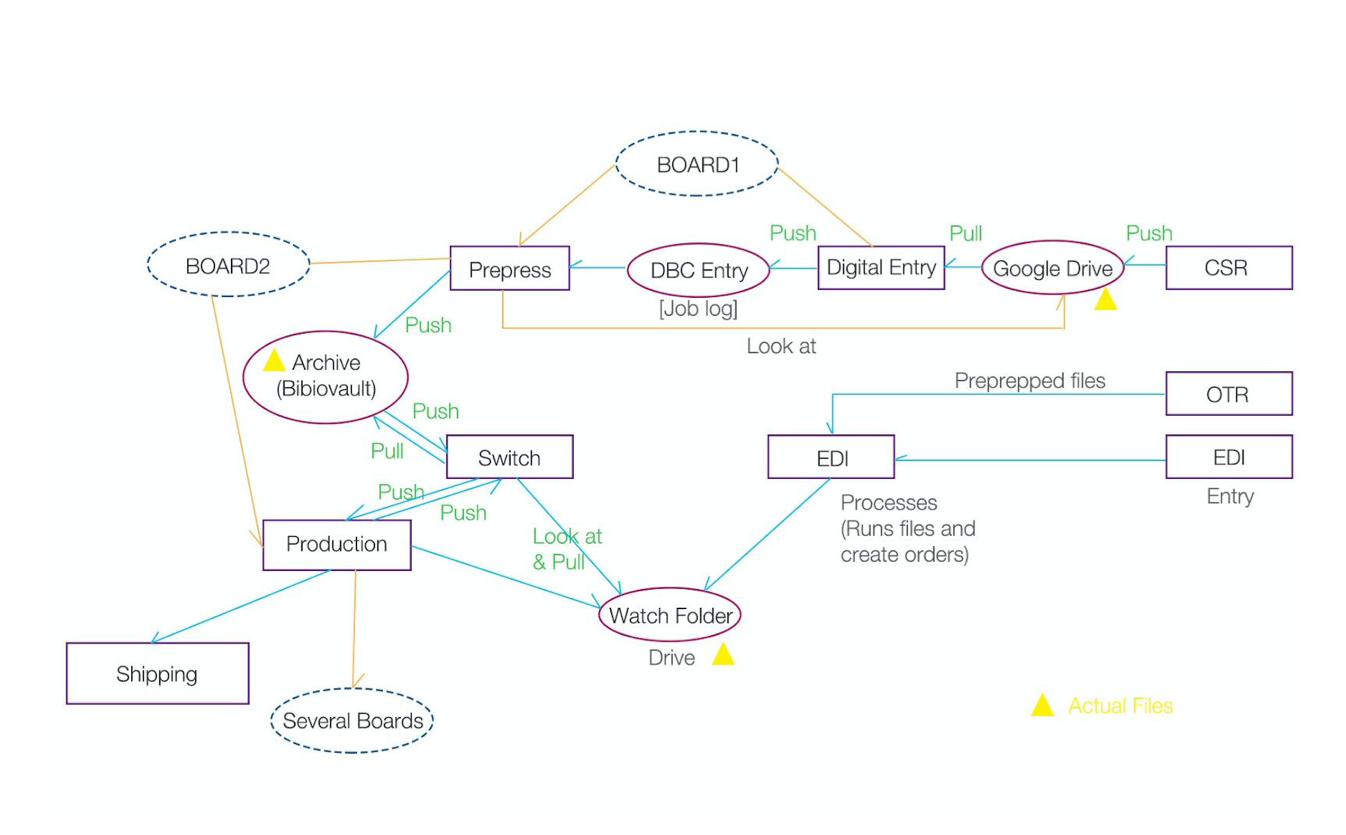 My personal focus was the amount of strain current practices put on employee memory. 
Affected by each of the previously mentioned categories, individual memory was a concern brought up in all our interviews with Digital Entry. The job required workers to memorize and transfer customer specifications and requirements manually, with limited options for storing details in the system or sharing them with others on their team. Many of the mistakes mentioned by our users could have been avoided if the technology they used was better suited to their various tasks. Recognizing the rules of basic design theory, a system used so heavily should be able to not only supplement the user's memory by storing important information for later use, but be able to catch common errors as soon as they occur to minimize later issues. 
I pushed for the company to add system features that support employee memory, including the use of their Electronic Data Interface for file updating or a set mechanism to ensure print ready submissions.
Additionally, while our initial findings focused on issues regarding technology and printing tools, I made a strong push for the potential connections between information shared between departments and overall company culture. Even though printing and shipping requires an order to pass through several hands, each individual's knowledge was limited to their specific role.
Because of this limited view, there did not seem to be a shared understanding of how the Print-on-Demand workflow functioned overall, leading to potential errors as files changed hands.
Focusing our analysis in this direction, we were able to suggest various ways the company might share a big picture view of the entire Print-on-Demand workflow with employees through a workplace training program, as a shared understanding would help collaborative efforts overall.