sojourner truth institute
Role: UX Research Consultant - Copy Editor 
Process: Market Research - Personas - Comparative Analysis
Goal: Study opportunities for mentorship or training programs aimed at supporting female entrepreneurs in the software field to help shape a new community platform.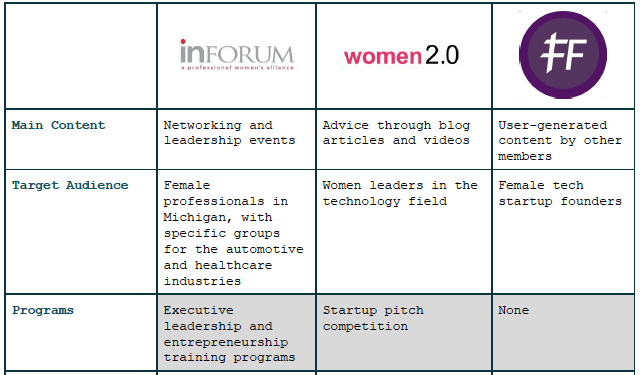 Sojourner Truth Institute is a non-profit organization based in Battle Creek, Michigan. Though the group gained recognition in the past with a campaign to honor their namesake, they have been relatively inactive in recent years. However, various community engagement opportunities were presented to the institute, all around entrepreneurship.
In this new environment, Sojourner Truth Institute aimed to reinvigorate its image by transitioning from advocacy and educational programming to building awareness of and access to technology. Through a proposed online community, they would build network connections for female and minority entrepreneurs in software companies, giving them access to helpful resources from members in their area.
understanding the environment
We started this project with extensive research on groups similar to the ideas mentioned by our client. I explored numerous current offerings and created personas to mirror their needs and motivations, but I decided that groups offering support for female entrepreneurs in the technology field should remain our primary targets and focused on three examples for a detailed comparison. 
Ultimately, Sojourner Truth Institute's proposed community would ideally accommodate four types of users:
- Emerging entrepreneurs that need mentor(s)
- Experienced mentors who want to help others
- Young students breaking into their chosen field
- External supporters eager to donate
In order to get a better understanding of the environment and currently available offerings, we researched communities similar to our client's proposed idea. From there, we selected three specific groups for a comparative analysis:
- Women 2.0:
an outlet for news and resources regarding technology targeted specifically at female professionals.
- Inform Michigan:
a network providing mentorship and resources for female professionals in Michigan.
- #FemaleFounders
a Slack channel for female entrepreneurs in the technology field.
Since the Sojourner Truth Institute's online community was still in the planning stages, this analysis was designed to give an overall view of these services to understand how they operate as well as what they offer to their chosen demographic. 

All three of these programs accept female professionals, but present important differences in the specific fields they support. Inforum's programs are more general, yet they do have groups tailored to members working in the automotive or healthcare industries. However, their scope is much more limited, as their services are intended individuals in Michigan. Women2.0 is presented as a public blog making it the most accessible of the three, but their intended audience is emerging female leaders in the technology field. #FemaleFounders is the most exclusive group, with a Slack channel limited to verified female startup founders.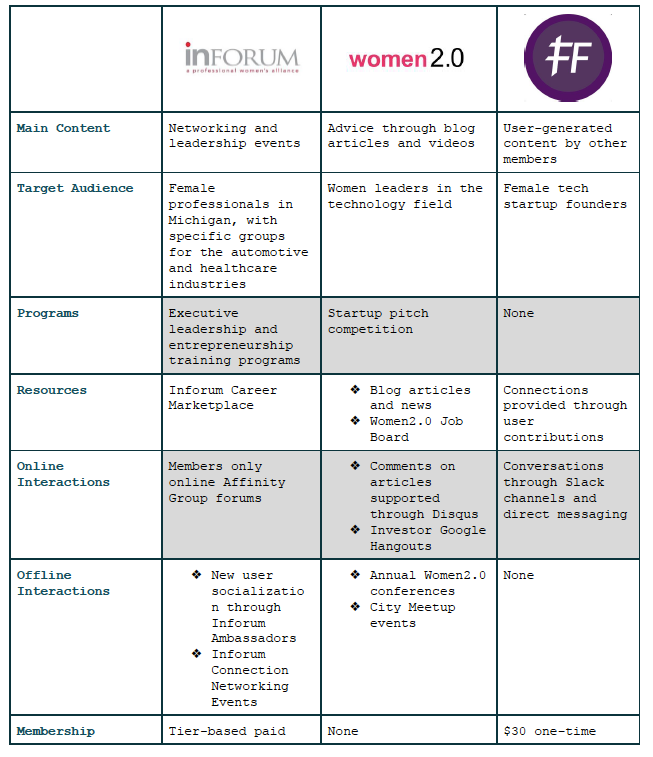 Coming into an environment that has completely evolved during the Institute's absence, our initial suggestions revolved around not only updating their online image, but re-establishing connections with active groups in their community. However, I wanted to emphasize the importance of shaping their community to their users and urged the stakeholders to find a unique scope and purpose that represented the needs that they were trying to meet for their intended audience. 
The differences found i
n our comparative analysis proved the importance of a clear direction above all else. In order to create a successful platform in this new field, the Sojourner Truth Institute would have to establish a scope and mission to extend their intended audience. Before stakeholders and other decision makers can determine the organization's appropriate plan of action, they would have to decide on an overall "community concept," based around the concerns of their chosen audience. 
These could be divided into three basic categories:
Problems/Challenges/Worries: 
What are the key issues they care about? 
What are they struggling with? 
What's stopping members doing/being what they want to do/be?
Experiences: 
What is their day like? 
What do they spend a lot of time on? 
Why are they interested in the topic?
What are their biggest achievements/failures?
Aspirations: 
What are their hopes, fears, and aspirations? 
What do they want to do in the future? 
What are their biggest fears? 
What do they need to achieve what they want to achieve?
As the organization was not aware of the answers to these questions, we recommended further research with potential members in the surrounding community or influential players in the field outside to get a better sense of the mindset of potential users and the resources they truly want and need. I saw this as a good chance to establish connections between the Sojourner Truth Institute and other Battle Creek based community groups as creating an open dialogue between Sojourner Truth Institute and other community organizations in the Battle Creek area would also help Sojourner Truth carve out its unique identity.
However, within the limited scope of our project, my partner and I were able to create a detailed comparison of the possible forms the proposed community could take including a self-hosted space, an online forum, a closed chat room or a community that took advantage of already established social media.
Additionally, as many offerings are divided by their payment structures and how much information is available to free users or casual browsing audiences, I suggested that the Institute consider how membership to their community would be structured. While a monetary structure would bring in many benefits and possibly improve the quality of the available resources, a free platform would make the community more open and accessible to outsiders and could shine a more positive light on the organization as a whole.